Hello! I finally got my WordPress back since I updated my Windows and couldn't even open the website. Praying this never happens again. So, I reviewed the first 10 episodes of Strong Woman Do Bong Soon previously where I covered most of the important bits. Today, I will be wrapping up my thoughts on it. So, let's see if my mind changed in these final episodes.
THIS POST IS FULL OF SPOILERS
Unfortunately, the issues I had with this drama were never resolved and I am very disappointed about them.
Do Bong Soon's mother makes a lameass excuse about how the strong girl born into their family always saps the strength of the boys born in the same generation. She justified her shitty behavior towards her daughter since childhood with that. Do Bong Soon literally feels unloved by her mother since she was a baby and in her 20s this is what her mother explains it with? Unacceptable!
Do Bong Soon's mother is one rotten character who doesn't make anything right till the very end. I don't understand how the writers can be okay with such a character being accepted and loved by the very people she abuses. Besides, Do Bong Soon, her mother is verbally and physically abusive towards her own husband. Her husband eventually leaves home but comes back for some unfathomable reason. There's no more talk of the abuse after that. Way to encourage abusive marriages!
 The goons had so many scenes, half of which completely unnecessary with bad comedy. I don't get it. The whole monk thing as completely ridiculous. What was the point? Did they just need fillers?
The whole romance plot of the childhood bestie, his girlfriend and Do Bong Soon's brother…what? Why? How? Can you not jebal?!!!!! It was beyond stupid and made zero sense especially given the conclusion.
 Our beloved CEO never resolved his issues with his family. They were pretty important in the beginning of the series but there was nothing after his brother's betrayal was revealed. Why? 😦
So, it was things like these that really ruined the experience of this drama for me. It had a promising start. Then all these time slot fillers and unanswered questions ruined it for me.
The good thing was the romance. Second Lead Syndrome was apparently on vacation during this drama for me and I'm grateful for that. The childhood bestie graciously accepted defeat and moved out of the way even though there were all those hilarious scenes with the male leads fighting. I loved them. They put aside their differences to help catch the killer. Do Bong Soon was very brave and heroic but downright foolish at times when she didn't take help from either of them and just plunged headfirst into danger.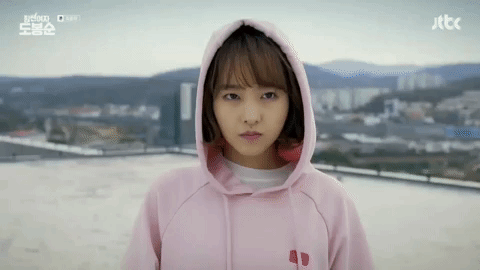 The double role is worth mentioning. The acting was excellent. The role was important in giving a lesson about bullying. It showed a badass side of Do Bong Soon. For once, the goon aspect didn't bother me where this role was concerned. These scenes were absolutely hilarious!
I liked how the victims were rescued and the killer was caught in the end. The office rooftop scene where the killer tries to kill Do Bong Soon was definitely one of my favorites. Such scenes were well done in my opinion and made up for other shortcomings.
I wish I could recommend this drama with all my heart but I always say that skip the goon scenes. There are quite a few of them grrrrr!!!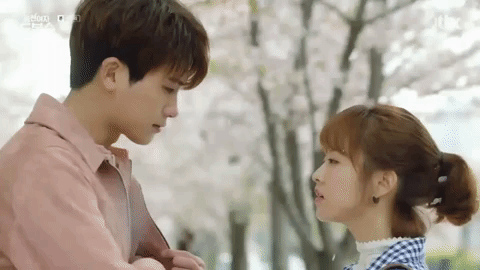 Overall Rating: 3/5
Have you watched Strong Woman Do Bong Soon or planning to watch it? What did you think of it?